"Questing for Connection"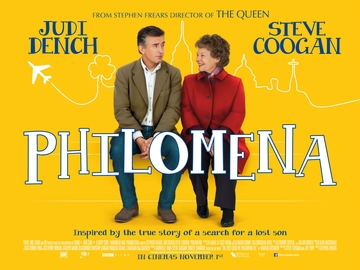 Back in the mid 50s in Ireland, when she was a teenaged unwed mother to be, Philomena Lee was banished from her family and sent to a convent to have her child. She and the other young women sent there for the same reason were allowed contact with their babies for 1hr a day. The rest of the time they worked long hours at menial jobs to "compensate" the sisters for taking them in. They also had to sign a consent form giving up all parental rights to their babies. When Philomena's child was 3 years, he was abruptly taken from her and adopted by an unknown family. Philomena eventually left the convent and became a nurse.
In the film, Philomena, we see Philomena Lee (Judi Dench) some 50 years later renewing her search for information about her son. Her search comes to the attention of a former BBC journalist, Martin Sixsmith (Steve Coogan). With his contacts in the United States, he finds out that her son was adopted by a wealthy American family and that he became a high-ranking official in both the Reagan and Bush administrations. The rest of the story I will leave for you to see unfold for itself in this very engaging film.