Cartoons of Caregiving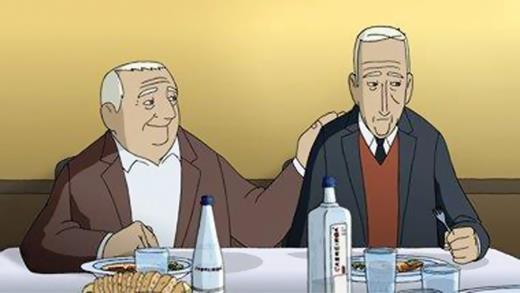 Life in a long-term care facility is rarely explored in narrative films. A couple of exceptions to this, Quartet and Assisted Living , were recently reviewed in this journal ( Vanden Bosch, 2013 ). This topic remains one of the frontiers we do not enjoy visiting in our culture.
The recent film, Wrinkles , however, dares to delve deeply into this unpopular territory. Produced in Spain in 2011 and subsequently released in the United States with English dubbing, it succeeds most of the time in holding viewer interest as it plays out the mini-dramas of its main character, Emilio (voiced by Martin Sheen). One of the reasons it holds viewer interest may be that it is an animated film. Animated films seem to have a universal appeal. Perhaps they have some retro resonance to the time that we watched cartoons as children. (I've searched, but there is very little research on this question.) In the case of Wrinkles , the animation, which is artistically well done, may also enhance the appeal of the film by allowing us to be one step removed from a story line and setting that we might otherwise find unappealing (or threatening!).